Here we are discussing the world's most powerful smartphones. We have already talked so much about Galaxy S2 and HTC Sensation. Now lets compare these two Android monsterswith iPhone 4S.
Now with the release of Apple iPhone 4S, people are again looking at it as every model of iPhone has been path breaking. This post is on, Samsung Galaxy S 2 vs iPhone 4S vs HTC Sensation.
We have compared the specifications of all these smartphones and these specs comparison is done in such a way that it lets you understand the difference between Galaxy S 2, iPhone 4S and HTC Sensation.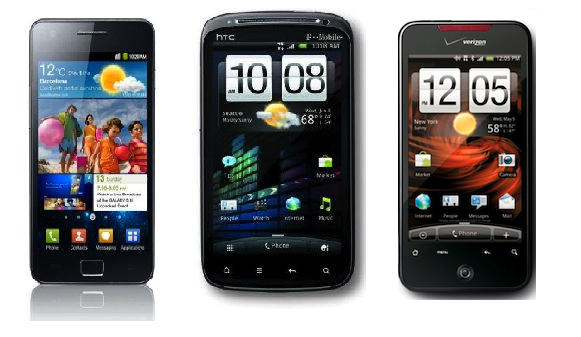 Samsung Galaxy S 2 vs iPhone 4S vs HTC Sensation –Compare Specs
Specifications
Samsung Galaxy S 2
HTC Sensation
iPhone 4S
Operating System

Android

2.3 Gingerbread
Android 2.3 Gingerbread
iOS
Processor
1 GHz Dual Core
1.2 GHz
1 GHz Dual Core AppleA5 Processor
Display
4.3 inches WGA
4.3 inches Capacitive
touch screen
3.5 inches IPS LCD
Display Resolution
480 x 800 pixels
540 x 960 pixels
640 x 960 pixels
Camera
8 MP with 2MP
secondary camera
8 MP with 0.3 MP
secondary camera
8 MP with VGA
secondary camera
Flash Type
LED flash
Dual LED flash
LED flash
Memory
Built in 1GB with
micro SD slot and
expandable upto 32GB
Built in 1GB with
micro SD slot and
expandable upto 16GB
16GB / 32GB / 64GB
RAM
1024 MB
768 MB
512 MB
Battery
430 hours of stand by
and 8.2 hrs of talk time
350 hours of stand by
and 8.25 hrs of talk time
200 hours of stand by
and 8 hrs on 3G, 14 hours on 2G
Dimensions
125.3 x 66.1 x 8.49 mm
126.1 x 65.4 x 11.3 mm
115.2 x 58.6 x 9.3 mm
Weight
116 grams
148 grams
140 grams
Video fps
30 frames
30 frames
30 frames
Video
720p HD
1080p HD
1080p HD
Design
Candybar
Candybar
Candybar
The only thing which made previous models of iPhones weaker than its counterparts was its camera. And with 8MP camera on iPhone 4S, its like filling the gap in the best possible way.
Logically speaking, iPhone 4S should rule the market as iPhone 4G has ruled the market and the only reason people scraped it off their list was because of their qualms with its camera, but with iPhone 4S,Apple has tried to strike right on the chord.
But only time would suggest iPhone 4S is really as impressive as Samsung Galaxy S2 or HTC Sensation. The fact that it is so powerful on paper makes it a must check out smartphone.
Via [ here ]